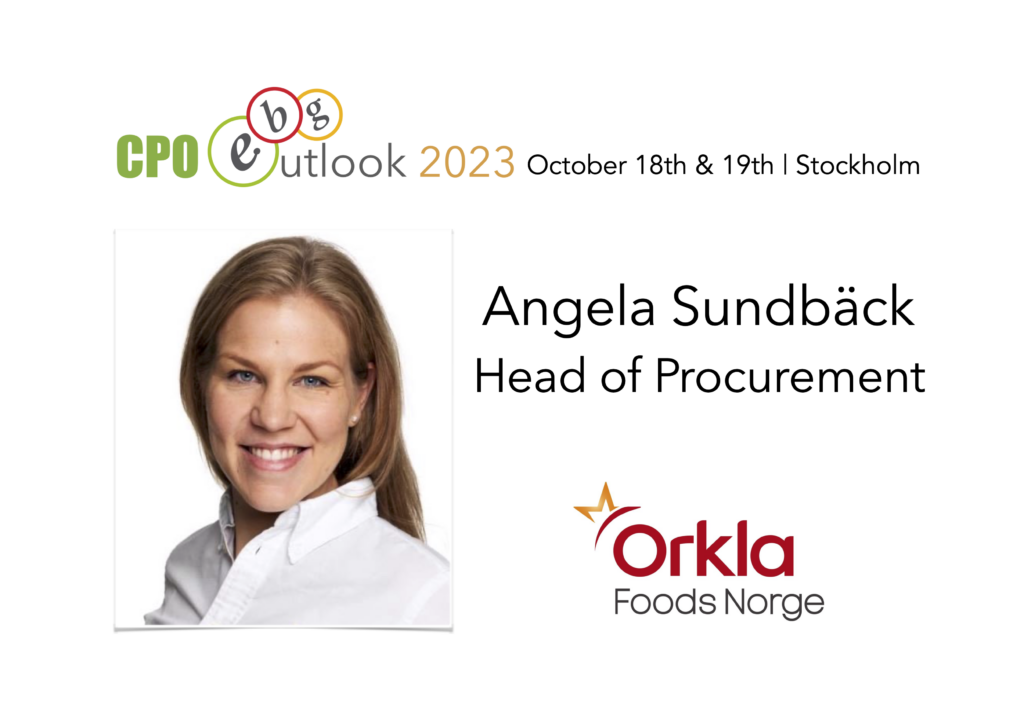 A warm welcome to Angela Sundbäck, Head of Procurement at Orkla Foods Norge joining CPO Outlook 2023! On October 18th and 19th a peer and expert group meet in Stockholm to learn from each other. Round table discussions are mixed with keynote presentations, drinks and dinner as well as workshops. When you leave an EBG | Network summit you will have drawn from experiences from almost every person in the room. All based on what You find interesting.
How do you expand as a procurement organization from protecting and optimizing Cost & Supply to being a key enabler for Profit & Reputation growth?
This is the topic Angela invite You to discuss. It doesn't matter how good your strategy is if you constantly need to struggle to find time and mandate to see them through. It is of course not like this all the time and will all matters in procurement. But too often this is the case. This is your chance to come together to discuss solutions, lessons learned. Tips and tricks.
Register here and see EBG in Stockholm
At an EBG summit you leave "In 20 years AI will have taken over and everything will be solved automatically" on the side. Because you know that you have real and important tasks and possibilities to address now. With the resources you have. Based on the constant change pressure you experience.
About Angela
"Angela is leading the team responsible for the Sourcing and Procurement of Direct, Traded and Indirect materials and services to Orkla Foods Norge.
"It is our responsibility to proactively support the value creation of our organization through Cost Development, Supply Performance and Sustainable Growth. Our suppliers are at the core of this work."
About Orkla Foods Norge
Orkla ASA is a leading industrial investment company. Its scope of activity is brands and consumer-oriented companies. At present, Orkla has 12 portfolio companies.
The companies in Orkla Foods Europe offer well-known local branded products to consumers in the Nordics, Baltics and Central Europe. In several of the countries, they hold leading market positions in a number of categories, including frozen pizza, ketchup, soups, sauces, bread toppings and ready-to-eat meals. Plant-based and sustainable products from the NATURLI'® and Anamma brands account for a steadily growing percentage of our turnover. The products are primarily sold through the grocery channel, but they also hold strong positions in the Out of Home, convenience store and petrol station sectors.
Their well-known brands in the portfolio include Grandiosa, TORO, Stabburet, Fun Light, Felix, Paulúns, Abba, Kalles, Beauvais, Den Gamle Fabrik, Hamé and Vitana.
About CPO Outlook 2023
EBG know procurement as an end to end process. EBG know change management. EBG have created networking summits for procurement and finance since 2010.
It is an intriguing thought that even though procurement (and supply chain depending on how you divide them) have become increasingly important yet still struggle to get enough resources. To be listened to. To get involved in time.
Great opportunity to reflect over my own company´s approach to the discussed topics.Participant during CPO Outlook 2022
Companies are by law obliged to comply with multiple laws. Of which an increasing number are directly related to Scope 3 – procurement. Companies are struggling with deciding how to reduce financial and operational risk as much as possible. Of which a lot is related to suppliers and supply. Companies need to have complete control over their cash flow and liquidity. Of which a lot is directly connected to the buyer-supplier relationship and its implications on payment terms, cost reductions and delivery accuracy. Of which procurement are (or should be) in control.
Register >>now and join a group of people who want to help each other improve. EBG will open the choose sessions link after Easter and seats are limited.