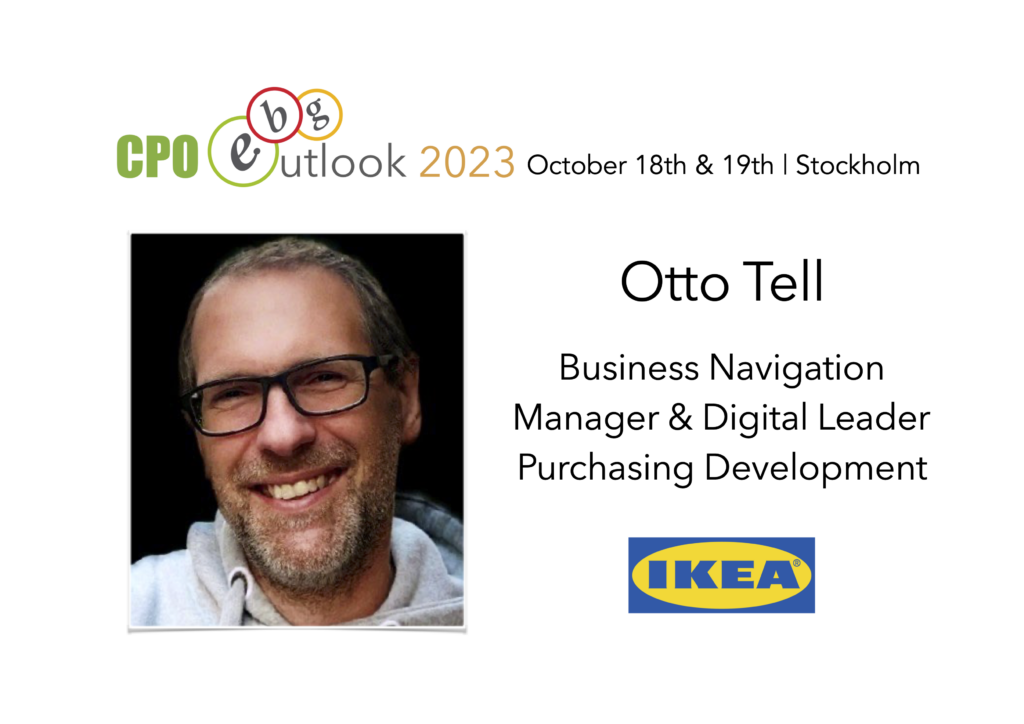 A warm welcome to Otto Tell, Business Navigation Manager & Digital Leader Purchasing Development at IKEA of Sweden. Otto is joining CPO Outlook 2023 on October 18th and 19th in Stockholm. You who join the summit will be able to listen to Otto and join the round table discussions he is hosting.
EBG met with Otto online during our summit Sourcing Outlook 2020. In the midst of a pandemic EBG were able to bring together like minded. We got to learn from the then business development Otto worked with.
Fast forward three years and a lot has happened! We can also finally meet in person again and will make the most of it. Bringing peers and experts that share common interests is an honor. Imagine what can happen when people come together in smaller groups based on interests and have honest and open conversations. EBG know since this has been the corporate path since 2010.
In October 2023 you who join CPO Outlook will hear Otto share "Keynote | How do you enable next level procurement performance management?". Possibly one of the most important topics of our times. Sustainability demands require insights. Cost control the same. Business innovations even further so.
During Otto's round table discussions (Theme Discussions) he invite you to discuss "How much may resilience cost?". For procurement and businesses at large risk control and mitigation is always high on the agenda. Today there is technology, controls and process designs that can help you stay ahead of what might happen, what is likely to happen and what you do when something does happen. But – at what cost?
At an EBG summit seats are limited. You who join will more or less have spoken to almost all who attend the summit. You will have the time to engage during breaks and we will have drinks and dinner together.
About Otto
Otto has experience of managing growth in a multi-million dollar business at multi-country level. Twelve years in the IT-industry (HP/HPE) and now in his fifth year at IKEA, engaged in global capability enablement.
About IKEA
What started as a tiny mail order company in rural Sweden has now become a global home furnishing brand that brings affordability, design and comfort to people all over the world.

About IKEA
IKEA is named after the initials of founder Ingvar Kamprad, Elmtaryd, the farm on which he grew up, and Agunnaryd, the nearby village.
The IKEA vision is to create a better everyday life for the many people. The IKEA Brand unites more than 200.000 co-workers and hundreds of companies with different owners all over the world. It's one brand, but it reaches millions of hearts and homes. Their value chain is unique. It includes everything from product development, design, supply, manufacture and sales.
The IKEA retail business is operated through a franchise system. Today, 12 different groups of companies market and sell the IKEA product range under franchise agreements with Inter IKEA Systems B.V.
About CPO Outlook
Developing and maintaining large businesses across functions is a tough job. Ad to that volatile markets and changing consumer behaviors and demands. EBG started based on the insight that although the industrial age is long gone, the ways in which companies divide labor to a large extent still remain the same.
In the beginning it was important to decide who does what in order to deliver the best product. As an employee you needed to become an expert in your narrow field. Thus it was important to narrow that down and compartmentalize what each individual do – and what they do not do.
This is still how many organizations are organized. In silos where KPIs, processes and goals are not always shared. Even though it is all part of the same company with the same overall goals.
We do not still produce goods like we did before. We do not sell goods nor services like we did before. So why are we working in silos? At CPO Outlook – and any EBG gathering – we aim to take a broader perspective.