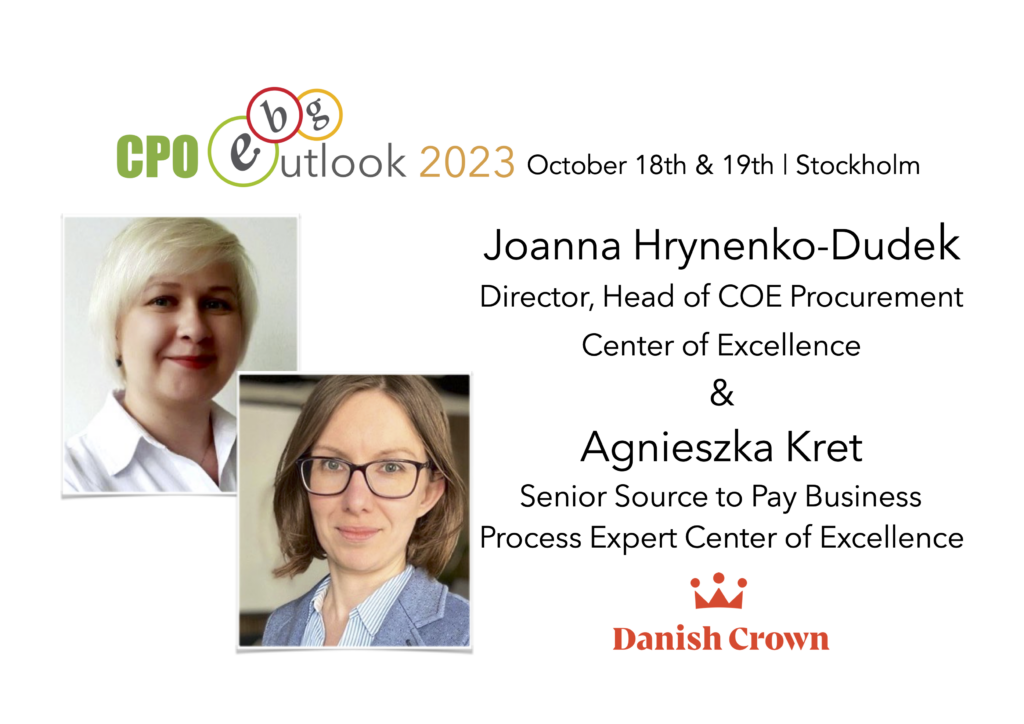 A warm welcome to Joanna Hrynenko-Dudek, Director, Head of COE Procurement Center of Excellence and Agnieszka Kret, Senior Source to Pay Business Process Expert Center of Excellence at Danish Crown. They join CPO Outlook 2023 on October 18th and 19th in Stockholm!
How have your company chosen to organize end to end procurement development? Are you centralized? Do you have a matrix organization or not? Who comes up with development ideas? How are you rolling out technology in the organization?
In October you who join CPO Outlook can choose to take part in the workshop held by Joanna and Agnieszka. They will share and discuss;
How do you navigate in a matrix organization to ensure transformation in the procure-to-pay area?
Because on thing is clear – just because you decide to transform ways of working and how to digitize and automate – it doesn't happen by itself. You know this.
This is also why it is such a blessing for EBG to be able to create days like CPO Outlook. Days where you learn from others in different areas of business development from a procurement perspective. You ask each other questions. Find people and companies to stay connected with. You will be reassured and get ideas you would not get anywhere else.
About Joanna
Joanna has almost 17 years of professional experience including 12 years in Procurement and Finance transformation and management. Before joining Danish Crown, she spent twelve years in Capgemini Poland working as business transformation consultant and manager for multiple global clients from different environment (manufacturing, agriculture, utilities). She is also certified ISO 90001 auditor, trainer and teacher. In Danish Crown she is responsible for leading Source to Pay process transformation.
About Agnieszka
Agnieszka has a Supply Chain mind connecting the dots across SC Management world to drive positive & individualized impact. She is passionate about making the change using cross-functional experience in international projects. Crash-coursed in crisis situations.
About Danish Crown
The Danish Crown Group is a global food processing company and among the largest in its field. The Group is the world's largest pork exporter and Europe's largest pork processor. Furthermore, Danish Crown Beef is a significant player in the European beef market.
Just like the crops in the fields continuously change, Danish Crown tirelessly refine and improve how we work, from farm to fork, to ensure good, safe food for people around the world to enjoy. Their history goes back to 1887.
As a global leader in sustainable meat production, Danish Crown have big obligations; not just to deliver, but to explore new opportunities. They still have a long way to go and face many challenges. But they remain committed to improving how food is produced – with respect for animals, people and the environment. In this quest, Danish Crown are prepared to challenge ourselves, the industry and the market.
About CPO Outlook 2023
All involved in transformation projects know culture eat strategy for breakfast. Common ways of working, past experiences and the idea of what it is you do all affect the possibilities to succeed with change management. This is why EBG find it important to enable peers and experts to meet in smaller groups. Discussing topics of importance and breaking big challenges and opportunities down into smaller pieces. Change doesn't come from creating a strategy or buying technology, Change come from that and understanding how to be persistent over time.
Welcome to join a unique gathering in October in Stockholm – >>here is where you register!