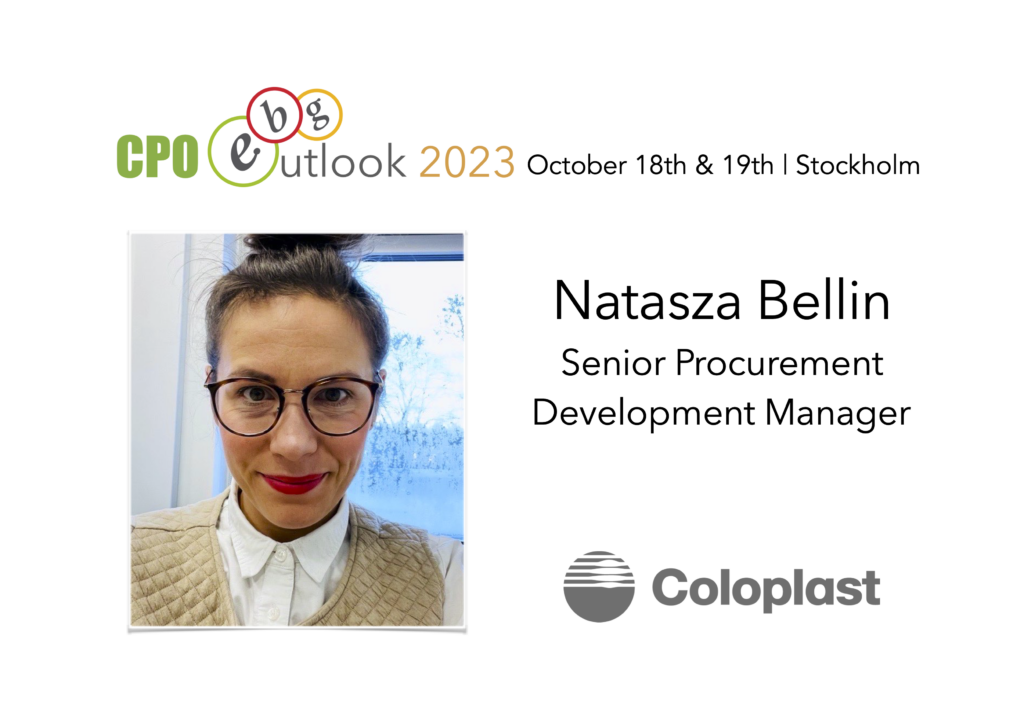 EBG | Network welcome Natasza Bellin, Senior Procurement Development Manager at Coloplast to CPO Outlook 2023. EBG met Natasza at CPO Outlook in 2022 and look forward to inviting You to the discussion sessions she will host in October. Natasza will discuss "Supplier Performance Management in 2023" which should be high on the agenda for all!
Consider all the challenges and opportunities you see before you as part of your profession. The little time you have. How many the possibilities are but also how challenging it is to achieve what you know should be possible. At CPO Outlook peers and experts come together for informal yet to the point experience exchange like no where else. Both strategic questions as well as operational. Because unless you cover them both – how can you reach set targets?
Registration is >>open and EBG will open the choose session link after Easter! Seats are limited and come at a first come first serve basis.
About Natasza
Natasza is a Supply Chain Professional with 12+ of experience of various roles within the Global Supply Chain + Procurement organizations from different industries & locations.
At present Natasza is heading the Procurement Development function in Coloplast focusing on the tools & systems within Source to Pay processes and the digitalization roadmap which supports the strategic development agenda.
About Coloplast
Coloplast develops products and services that make life easier for people with very personal and private medical conditions.
Their business includes Ostomy Care, Continence Care, Wound & Skin Care, Interventional Urology and Voice & Respiratory Care. Coloplast operate globally and their organization has about 14,500 employees.
About CPO Outlook 2023
There is such a power in people coming together to help each other. To have conversations about their professional life. Focusing on how strategies need to evolve. How operating models need to stay tuned. To what extent competences need to change. And so on. EBG have brought together peers and experts since 2010 and we know what we are doing.
Above images from CPO Outlook 2022. Imagine what you can learn from others questions and experiences!
Life does not fit into a one liner. Conferences should not be about people on stage for two days. They should be a mix of time to reflect (presentations) and time to think (discussions).
Still curious what EBG mean? Take a look at lats years >>Post Summit Report and see for yourself.
Seats are limited as the two days consist of round tab