Give a warm welcome to Niclas Hjerdin, Head of Procurement Excellence and Lisa Siljefalk, Procurement Strategy and Excellence Manager at Aurobay (Powertrain Engineering Sweden AB) joining CPO Outlook 2023. On October 18th and 19th you who join EBG | Network in Stockholm can learn from their keynote and choose to join their workshop.
If you could develop a procurement organization and choose how to go about it – what would you do? You would probably digitize and digitalize as much as you can? Of you could consider how to best use procurement resources how would you structure people and processes? You might want to explore creating a flexible structure ready to focus on areas of need depending on which they are.
This is what Niclas and Lisa will share and discuss! How they are choosing to organize and develop their procurement strategies and operations. How they are considering using competences where they are most needed.
About Niclas
Niclas is business driven and coaching with a high strategic focus on sustainable analyses and actions as well as the process of implementation and execution. He have been active in international sourcing with strategic development, organizational direction and leadership. Niclas has managed sourcing and procurement organizations on operative, tactical and strategic level both in Europe and China.
Areas of expertise:
✪ Change Management & Business Strategy
✪ Supply Chain Management, Strategic Sourcing & Procurement Development
✪ Global cooperation and implementation
✪ Organizational Development
About Lisa
Lisa is leading the Procurement Digital Strategic Roadmap and projects within Procurement Excellence ensuring an innovative, flexible, sustainable, and compliant procurement at Aurobay. Lisa has previously worked at Volvo Cars, Essity, Stretch, Accenture giving her broad practical and strategic knowledge.
About Aurobay
Aurobay develops and manufactures world-class powertrain solutions for a global market. A pioneering venture that brings together Volvo Cars' powertrain business with Geely, Aurobay is the brand name for this new powertrain business. Our 2,900 employees in Sweden and China work across engine production, R&D and sales. Powering sustainable mobility. And beyond.
About CPO Outlook
What if you could meet peers and experts in an informal setting and discuss all those professional matters you don't quite know how to solve. Being reassured you are not alone. That in fact many share the considerations you have. Some having found solutions and others willing to be open minded and learn from others ideas.
Take a look at what an >>EBG summit look like from 2022 when we could finally meet again after three years being online (and enabling 129 online round table discussions).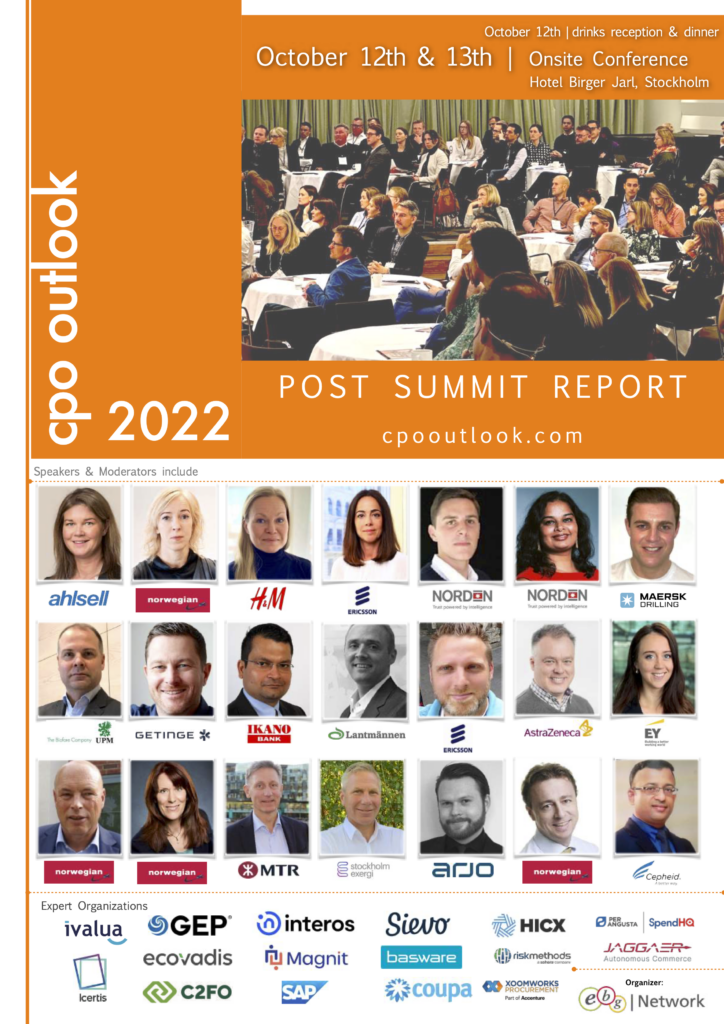 An EBG summit consist of plenty round table discussions, workshops, keynote sessions as well as drinks and dinner. All who join us do so us based on wanting to discuss topics in the program. Therefore all are open minded and willing to share and learn from others. This summit has a unique setting like all summits since 2010 when the first EBG gathering were held.