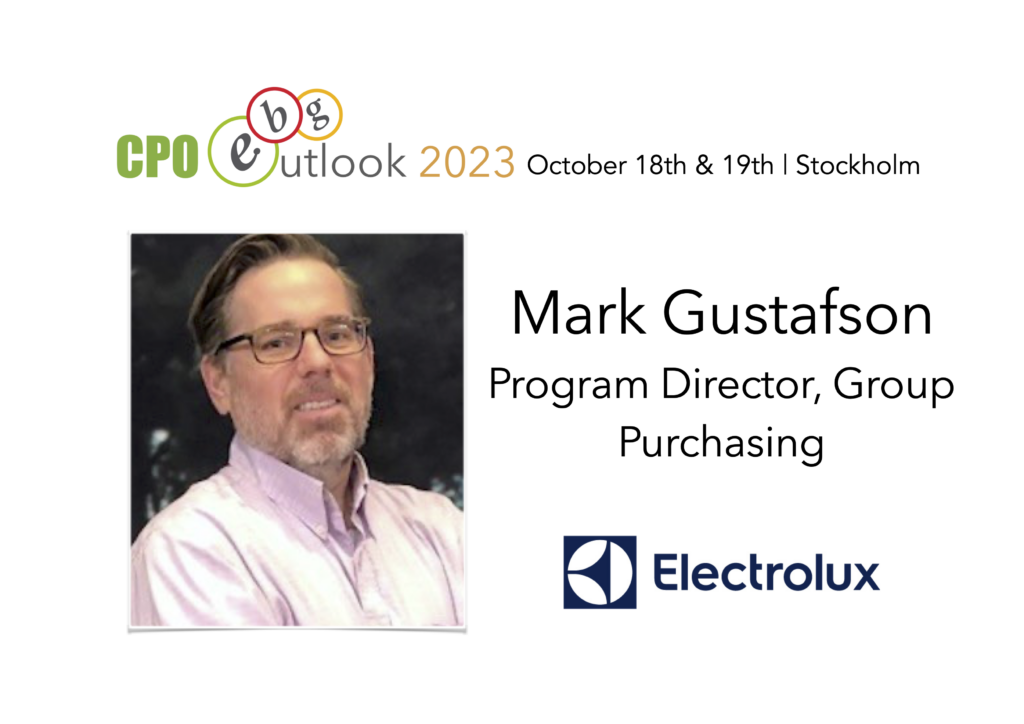 Welcome Mark Gustafson, Program Director, Group Purchasing at Electrolux joining CPO Outlook 2023. EBG have known Mark for several years and appreciate his willingness to share his experiences and be open to listen to others. The fact that he is also very knowledgeable is of course a huge plus. For you joining the summit on October 18th & 19th the option to join discussions hosted by Mark is open.
An EBG summit is not about people broadcasting messages and visions from a stage for two days. That leave you with inspiration but probably more questions than answers as you leave. Because how does what they state relate to you? Your resources, culture and ways of working. An EBG summit absolutely offer visions of the future. But not without solid anchoring in what lies ahead now.
How do you organize an array of processes in a global organization? Perhaps via a Purchasing Process Ecosystem
The above is what Mark invite you to discuss with him. How many of you have scattered processes yet expect people to work in a unified way?
The choose link will open after Easter and there are limited seats at each round table discussion and workshop. EBG do not allow more people than what we can cater for in a quality way. Quality here mean ensuring you get to exchange experiences with as many as is possible.
Register here to meet in October
About Mark
Mark is a diverse industry and category strategic purchasing experience with leading international firms, supported by mechanical engineering and MBA degrees
Team-building leader with track record of accomplishments through others by coaching through challenges, developing a clear strategy, fostering a team mentality, improving process, and increasing data visibility
Consistent bottom-line contributions realized through supplier collaboration, data-driven negotiation strategies, and strategic sourcing process application.
About Electrolux
Electrolux Group is a leading global appliance company that has shaped living for the better for more than 100 years.
Electrolux reinvent lifetime taste, care and wellbeing experiences for millions of people, always striving to be at the forefront of sustainability in society through our solutions and operations.
In 2022 Electrolux Group had sales of SEK 135 billion and employed 51,000 people around the world. Their headquarters are located in Stockholm, Sweden, and the Electrolux share (ELUXb) is listed on Nasdaq OMX Stockholm.
Under their brands, including Electrolux, AEG and Frigidaire, they sell approximately 60 million household products in over 120 markets every year.
About CPO Outlook
Founder Anna Bjärkerud started EBG due to the change management challenges she recognized creating business networks back in 2008. She saw the need to bring functions together across defined processes. She noticed that at the end all spoke about how hard it is to change behavior. With a behavioral science degree se set out to bring people together with these two insights in mind.
This was back in 2010.
Today at CPO Outlook procurement professionals come to learn from others and share their own experiences. Informal yet to the point in a way you cannot find anywhere else. EBG spend months preparing for a limited group of people coming together. The rest is up to those joining, to make the most of what is offered.