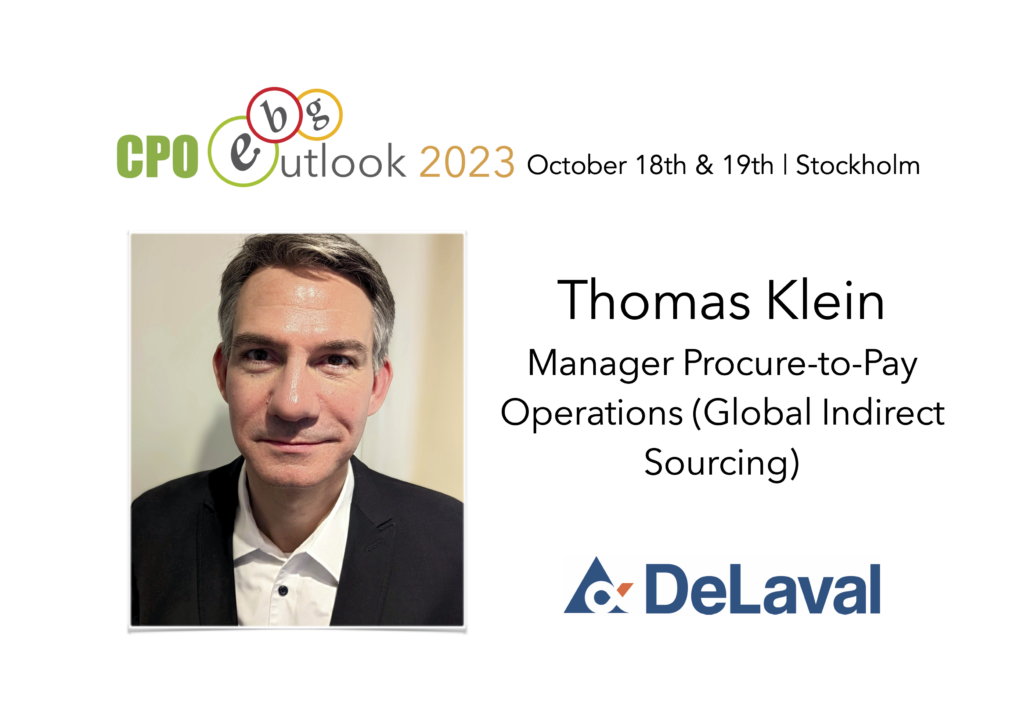 Technology play a vital part in business development. Digitizing or digitalizing. Are you you changing analogue ways of working to digital and automated ways of working? Or are you changing how you do business? EBG | Network welcome Thomas Klein, Manager Procure-to-Pay Operations (Global Indirect Sourcing) at DeLaval who will be joining CPO Outlook 2023. On October 18th & 19th you who join the summit can take part in the discussions Thomas will host. He will share his experiences in overcoming procure to pay adoption. For sure one of the hardest aspects to overcome when you change ways of working in any organization! Getting people to adopt to change.
If you are anything like those joining CPO Outlook 2023 you have a lot on your plate. Possibly organizational changes, limited resources, volatile markets and a need to realize strategies you may not be sure how to.
Below some of the topics that will be discussed in October (all in all about 40 round table discussions and 8 workshops to choose from):
Supplier Performance Management in 2023
How do you enable next level procurement performance management?
How much may resilience cost?
How do procurement need to work in the future if all suppliers are a potential risk?
Balanced Category Strategy – how to unlock the true value of Purchasing
How do you realize changed procurement focus and ways of working?
Strategies and solutions to the evolving landscape of supply chain regulations
How do you unify scattered procurement data and processes via a Purchasing Process Ecosystem?
About Thomas
Thomas is a senior sourcing, contracting and supplier management professional with focus on Information Technology and Telecommunication categories. He has been engaged in IT matters since 1993, so Thomas has 25 years+ experience on both ends of the supply chain, sales and sourcing / procurement.
Thomas has been Manager Procure-to-Pay Operations since January 2023. As such responsible for the operation of SAP Ariba as mandatory e-sourcing tool in 6 key countries ( Sweden, Poland, Germany, Belgium, United States and China ) in the DeLaval group.
Prior to that Thomas was globally responsible for IT & Telecoms category Sourcing Manager in DeLaval Global Indirect Sourcing, member of IT Management. He joined DeLaval in December 2013. Prior to that established and managed the global IT & Telecoms sourcing team in liner-shipping industry, at Hapag-Lloyd , headquartered in Hamburg/Germany. 12 years with Hapag-Lloyd.
Before this having held multiple roles in IT-centric procurement and sales in the Computer Compass group.
About DeLaval
DeLaval has helped dairy farmers all over the world to stay profitable since the very first moment. Innovation is in our blood, and it has been in our blood since Gustaf de Laval patented the centrifugal cream separator back in 1878, over 135 years ago. DeLaval, alongside Tetra Pak and Sidel, is part of the Tetra Laval Group.
Today, DeLaval has 4,500 employees and operates in more than 100 markets.
About CPO Outlook 2023
EBG have enabled informal yet to the point experience exchange since 2010. Inspiration but also concrete discussions about strategies and how to operationalize them. Leadership experiences and governance know how. In short a boost to you who work with procurement and understand the importance of an end to end perspective.
Take a look at last years summit – seats are limited and registration is open! Download the >>Post Summit Report 2022 here.